Beyond Open Offices: The Workspace of the Future Is Here
---
A conversation with Layer 10 Consulting
In our latest interview with business thought leaders, SageRiver sits down with Ken Wilkinson, chief enablement officer of Layer 10 Consulting. His firm has pioneered a new service called digital workspace enablement, which looks holistically at how technology can be leveraged to foster more collaborative, creative workplaces that lift team performance. We asked him how leaders should think about workspace technologies, how technology can support culture change and what the workplace of the future may hold.
SageRiver (SR): Your company has created a new service. How would you describe digital workspace enablement?
Ken Wilkinson (KW): We help clients to design technology into their workspace, so they can foster the culture they want and lift team performance.
We're at the table before a new build or renovation begins to provide a holistic overview. We help clients define what they want to achieve, identify opportunities for technology to enhance their space and then select the right partners to support those technologies based on their goals and budget. Once those decisions are made, we collaborate with architects, engineers, IT staff and interior designers to produce the results our clients want.
SR: What's driving the need for digital workspace enablement?
KW: The drivers are different for every client, but we see some overarching trends.
First, technology is no longer an add-on to the way we work. In the past, businesses designed their workspaces and then retrofitted them with technology. That approach cost more, and their employees were less productive because the technology didn't work well. Organizations simply can't afford to operate that way anymore.
Second, we have an extraordinarily tight labor market, and organizations are fighting to attract and retain talent. Millennials, in particular, want flexible, collaborative and fun workplaces. Having the right technologies in place helps companies create attractive cultures.
The best solution is to encourage people to come to the office by creating an experience they can't duplicate from home."
And, third, many companies have a love-hate relationship with the work-from-home trend. On the one hand, it may help them shrink their office footprint and cut real-estate costs. They also know that many employees want—or need—to work at home at least some of the time. On the other hand, companies know that collaboration and creativity happen when people are together in a space. The best solution is to encourage people to come to the office by creating an experience they can't duplicate at home. If companies do that while also making it possible for employees to work at home successfully when appropriate, then everyone wins.
SR: You mentioned that employees want flexible, collaborative and fun workplaces. What does that look like?
There isn't a one-size-fits-all approach. The design depends on who you are, how you work and who you want to be in the future."
KW: There isn't a one-size-fits-all approach. Every organization wants a "wow" space or a fun space, but there's a balance to be struck. Some companies attract employees through open offices with spectacular amenities and recreational areas. If you're a publicly traded company, you also want to show that you're spending money wisely on what makes employees productive. The design depends on who you are, how you work and who you want to be in the future.
SR: What are the most important questions for leaders to ask before making workspace technology investments?
KW: We ask our clients to think big and then smart.
"Thinking big" starts with asking who they are today and who they want to be. What kind of work do they do, and how do they work together now? Are they all on site, or do some work from home? Once we know that, we ask how they'd like their culture to evolve and what they'd like to be able to do that they can't do now.
Once we know their aspirations, we "think smart." That involves prioritizing goals and options to fit their budget and looking at both technology solutions and other approaches that might fit the need at a lower cost.
SR: How do you design a workspace technology solution for a client?
KW: We take a multilayered approach (see diagram) to designing the right solution for each client, and we always begin with the end in mind.
Our goal is to help our clients achieve their vision in a way that optimizes the experience of individual employees and teams. For example, we often use technology to create privacy in largely open office environments through sound masking, glass masking overlays or other strategies. We're also incorporating more sophisticated collaborative tools into conference areas to support geographically dispersed teams, or boosting wireless capabilities inside and outside buildings so employees can work anywhere.
Another goal is to help our clients get the best long-term return on their investment. Technology changes by the minute, and no one can guarantee what the future holds. We can be sure of what will stay the same, however: There will be more people with more devices needing more connectivity and mobility. We prioritize those capabilities for our clients to support their future growth and productivity.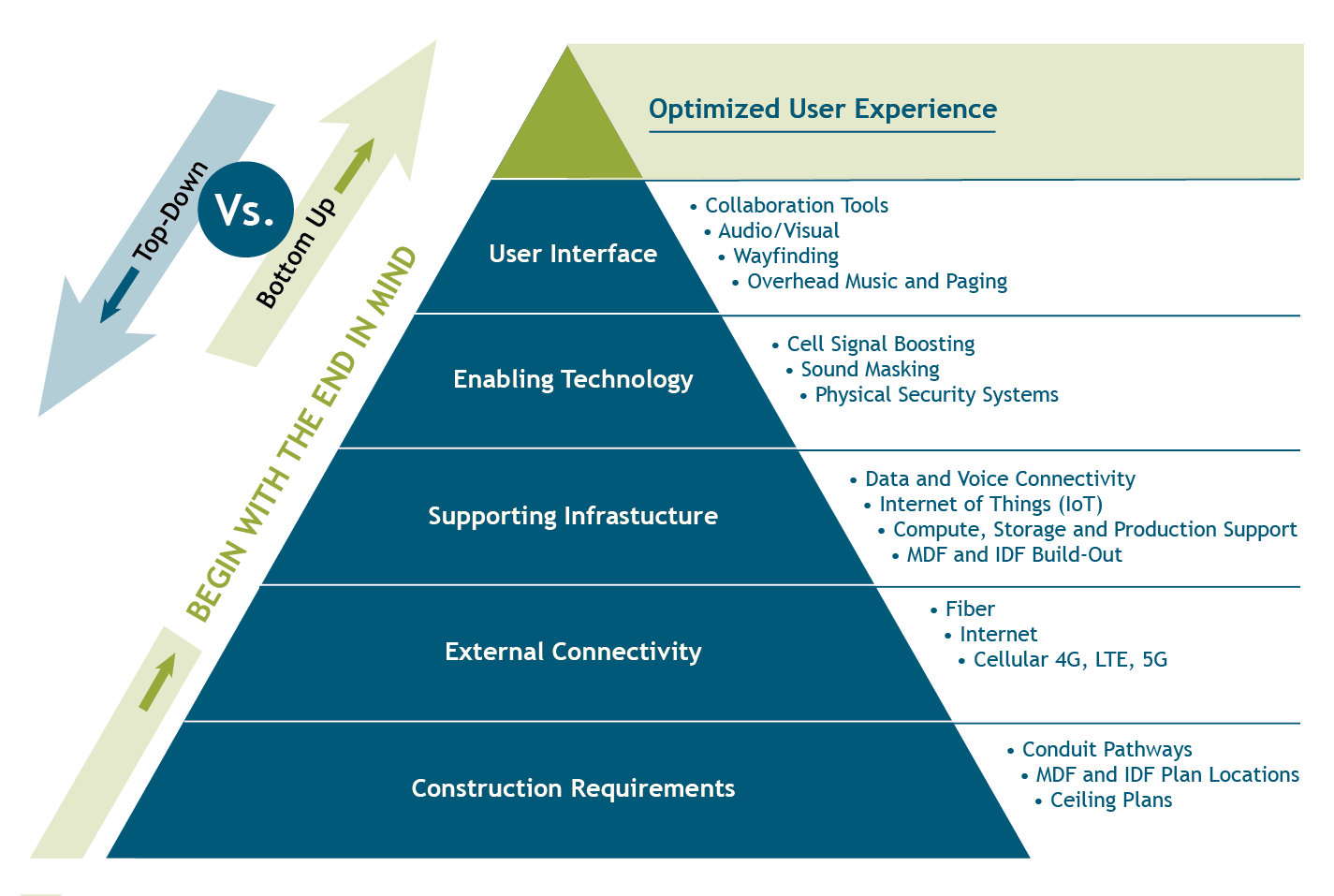 SR: Based on your experience, do you believe technology drives culture change?
KW: We're technology enthusiasts, and we firmly believe that people, partnered with the right technology, can work more effectively and productively. That being said, we think technology can "nudge" an organization towards culture change, but it can't shove a workforce in a particular direction.
For example, if you have a geographically dispersed team, you may want to use videoconferencing to strengthen team relationships and improve collaboration. To get value from the investment, however, people must use the tools. You have to set expectations about how you work together, and leaders must model that behavior.
Organizations also need to acknowledge that people have different preferences and decide how much variation they'll allow within their team. When it comes to technology, we tend to think about generational differences. We also find that where people fall on the introversion / extroversion spectrum can make a difference. Not everyone is comfortable being on view or in open spaces all the time, and those employees will be more productive if they can occasionally work in quieter, more private settings.
At the end of the day, technology is a tool that supports culture change. Leaders will get the best results if they model the behaviors they want to see and work with their teams to define group norms while respecting individual differences.
SR: As you look into the future, what are the most important trends or developments you're noticing in workspace technologies?
KW: Near term, there are four we're seeing.
First, companies overall are taking advantage of the reliability, functionality and ease of use of cloud-based services and storage. That means they're spending less for IT infrastructure.
Second, organizations are investing significantly more in wireless capabilities and connection points throughout their buildings and grounds. The investments make it easier for employees to move and work in different areas throughout the day. Even more importantly, companies can now capture real-time information about where people are located and what devices they're using. The data can help them improve security or quickly evacuate buildings during an emergency. Organizations can also see how work areas are being used and adjust to ensure they're getting the best return on their real-estate dollars.
Third, companies are increasingly offering personalization, flexibility and choice to employees and teams. For example, in many companies, an employee will check in for a work area assignment for the day. The employee's badge indicates the employee's preferences about location, type of work area, temperature, desk height and more. From a team perspective, companies are using structural approaches, such as architectural walls, that enable teams to reconfigure their space as needed to fit their needs.
And, finally, there's a trend toward detaching from things and spaces. Rather than sit in the same space every day, people are more willing to get up, move to different work areas to collaborate and shift to open or private workspaces as needed. There's a wellness component to this as well, as many employers are thinking about how to create workspaces that promote walking, standing, interacting and other healthy behaviors.
SR: And what about trends that are further out on the horizon?
KW: Many technologies that once seemed on the distant horizon are already here in some form. Artificial intelligence and the Internet of Things are already being incorporated into our projects, and their role will continue to increase. Robotics are here as well, although many of the applications are too costly to be practical for most companies.
The technology that's available today is extraordinary. Who knows what the workplace will look like in 10 to 20 years?