Beliefs→Behaviors→Results: Engaging Teams in Defining Values-Based Behaviors
---
The excitement grew as employees flipped the posters to reveal six winning words and then placed them in a new order. When the audience realized the words formed the acronym "WE CARE," they rose for a thunderous ovation.
The enthusiastic crowd wasn't a group of fans cheering a rock star. They were DaVita employees—better known as "teammates"—applauding DaVita's new descriptors of how they would translate their patient care beliefs into everyday behaviors.
The descriptors were unveiled at a 2018 DaVita Academy in Denver. The two-day event is held to nurture the culture of DaVita, which is known as a village because DaVita places community at its center. The unveiling capped a highly democratic process that involved hundreds of teams and thousands of voters worldwide.
Giving Life to Guiding Principles
As part of SageRiver's "Workplace of the Future" e-newsletter series, we've been exploring how leading companies are bringing their guiding principles to life and sharing those insights with clients. After contacting DaVita to learn more about its intentional culture, I was invited to attend a 2018 DaVita Academy. The experience gave me a unique opportunity to see how DaVita was translating its vision, mission and values into behaviors that would guide day-to-day interactions within a specific organizational context.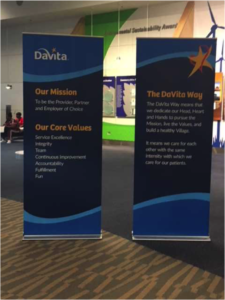 Why does defining behaviors matter? Because the workplace today includes five generations working across time zones and cultures at a faster pace than ever. Given those factors, employees may understand company values differently without even realizing it. By tying values to specific actions, companies like DaVita help develop a shared understanding that allows teammates to better accomplish their purpose.
Respecting the Commitment
A Fortune 500 company and a leading provider of kidney care, DaVita is known for its human-centered, democratic culture. In fact, DaVita was literally named by its teammates, and its team values were defined almost 20 years ago through a democratic process. That same community spirit guides all aspects of DaVita's village life today.
A core tenet of DaVita's culture is that "beliefs drive behaviors, which drive our results." Village values—or beliefs—are reflected in every aspect of DaVita's workplaces, events, communications and more. DaVita determined it was time to turn its beliefs around caring for patients into specific, tangible behaviors.
Given its culture, DaVita knew what launching a democratic process to define those behaviors would entail.
"If you truly engage your people, it can make your culture much stronger," said Dave Hoerman, chief wisdom officer of DaVita Inc. "You have to be ready to listen to what your teammates say, however, and decide to live in integrity and accept the answer, even if it wasn't what you expected to hear."
Before engaging teammates, DaVita thinks carefully about the type and level of input they're seeking and how it will be used. They also consider whether they can commit enough time, money and energy to engage the village in effective ways. As a result, when teammates are asked to provide input, they know their voices will be heard and valued, which helps build trust throughout the village.
Deciding What Caring Looks Like
For this effort, DaVita underwent a global, iterative process to determine which behaviors were critical to making patients feel cared for. The process involved:
Facilitating multiple rounds of input to collect top behavior ideas from more than 500 teams across the village
Democratically voting to winnow the list of behaviors from 14 to six
Engaging more than 11,000 voters from 13 countries (Voters included clinical and corporate office teammates, as well as physicians.)
Reviewing the list with all top executives to ensure the behaviors were actionable, not duplicative, and aligned with the mission and values.
Organizing the final behaviors into an easy-to-remember acronym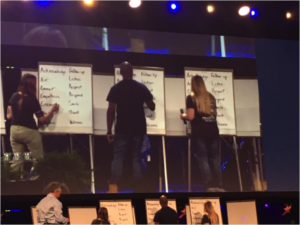 Rather than simply announce the final result, DaVita engaged teammates in an exciting interactive event. The unveiling included more than 2,000 teammates attending the Academy and thousands of others streaming in live from across the globe. Three teammates came on stage to engage this world-wide audience in guessing which six of the final 14 behaviors had been voted the winners.
DaVita defines itself as a community whose teammates "care for each other with the same intensity with which we care for our patients." Appropriately enough, when the winning behaviors were revealed the next day, their first letters spelled "WE CARE."
Continuing the Journey
While the Academy reveal generated excitement, DaVita was just beginning its journey toward understanding and living the WE CARE behaviors.
"Relentless reinforcement is absolutely critical to making the behaviors sticky," Hoerman says, noting that he's changed his email sign-off to "Every interaction matters!" as a reminder about the importance of WE CARE actions.
As an organization, DaVita will integrate WE CARE behaviors into the culture in several ways, such as:
Leaders will share WE CARE stories during village meetings and events to reinforce the meaning, purpose and impact of the behaviors.
Team activities will be suggested to help teams learn about and practice the behaviors during regular meetings.
Leaders will observe their teams as they interact with patients to identify opportunities for recognition and coaching.
The teammate onboarding process will include education around what the behaviors are, how to live them and why they're critical to DaVita's culture of caring.
WE CARE will become a part of DaVita's visual imagery and will be represented in its centers, offices, and major events to keep the behaviors top of mind.
Renewing and Strengthening Your Culture
As DaVita's experience shows, engaging your team in defining behaviors can help renew and strengthen your culture. Behaviors must be embraced by everyone, and teammates are more likely to enthusiastically "own" new behaviors if they create and celebrate them together. Once that initial work is done, the behaviors must then be integrated into HR practices, training, branding and meetings so the culture change takes hold.
The process takes effort, but it's an investment worth making if you want to breathe new life and power into your vision, mission and values. To discover more about how DaVita built its "radically human" culture, click here.